Made to measure
Custom made curtains, blinds and shutters, beautifully crafted in Cleckheaton.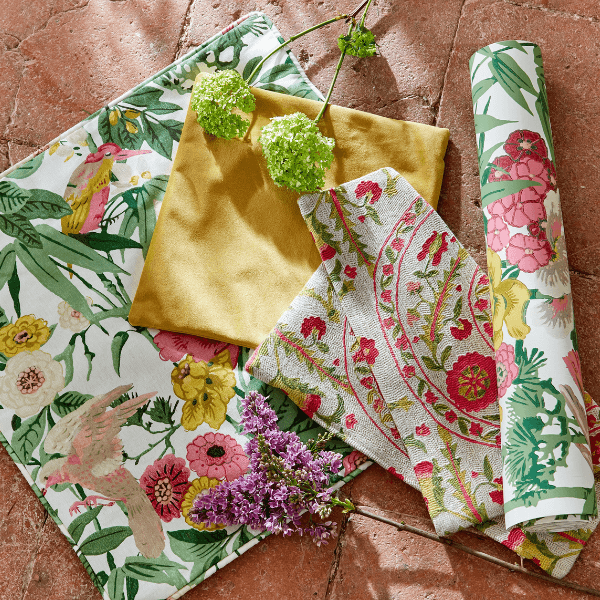 Beautiful designs to browse through
Established in 1989, our dedication to craftsmanship and excellence has made us a trusted provider of handmade and high-end bespoke soft furnishings, serving both homes and businesses across Yorkshire. With a focus on meticulous attention to detail, we have become synonymous with quality in the realm of made-to-measure curtains, blinds, and shutters.
Beyond our exceptional window treatments, we take pride in offering a curated selection of beautiful fabrics, wallpapers, and paints. This extensive range empowers you with the choices and options needed to transform your space into a haven of personalised luxury. Whether you're envisioning a cosy home retreat or creating an inviting atmosphere for your business, our comprehensive selection ensures that you find the perfect elements to suit your style.

Located in Cleckheaton, our showroom provides ample space for you to immerse yourself in the world of luxury fabrics and wallpaper. Explore our collection through meticulously organised books, allowing you to visualise and choose the materials that resonate with your vision.

Our commitment extends beyond the selection process. We understand that transforming a space involves more than just picking out materials. It's about the seamless integration of design elements into your home or business. This is why, from the moment you step into our Cleckheaton showroom to the final installation and fittings, we are here to guide you through every step of your interiors project.

Our experienced team is dedicated to ensuring that your vision comes to life with precision and care. Whether you seek expert advice on color coordination, and texture combinations, or require assistance in understanding the latest design trends, we are your partners in achieving a space that reflects your unique style and personality.

In essence, our journey since 1989 has been about creating more than just soft furnishings; it's been about crafting experiences and turning spaces into expressions of individuality and comfort. Join us on this journey, where every detail matters, and your vision takes center stage.